Football scholarship chart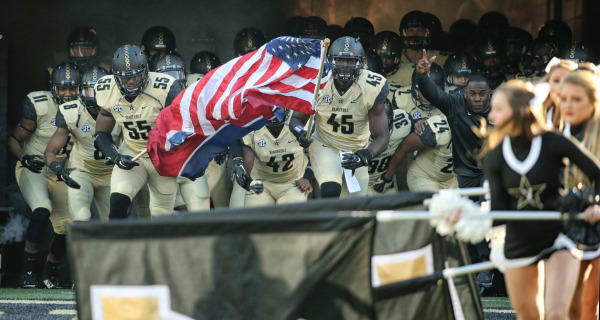 Vanderbilt football scholarships, by year
2020
2021
2022
2023

QB (4)


(Moussa)

(Seals)

(Wright)

(Clark)




QB (4)


(Moussa)

(Seals)

(Wright)

(Clark)







QB (4)


(Moussa)

(Seals)

(Wright)







QB (2)

(Seals)

(Wright)













RB/FB (5)

Marlow

Wakefield

Brooks

Tran-Reno

(Griffin)

RB/FB (4)

Marlow

Brooks

Tran-Reno

(Griffin)




RB/FB (4)

Marlow

Brooks

Tran-Reno

(Griffin)




RB/FB (2)

Tran-Reno


(Griffin)










WR (9)

Abdur-Rahman

Bolar

Bostic

Johnson

Pierce

Winrow


Boddie

Harrison

(Kyle)


(Sheppard)




WR (7)

Abdur-Rahman

Bolar

Bostic

Boddie

Harrison

(Kyle)


(Sheppard)













WR (6)

Abdur-Rahman

Johnson

Boddie

Harrison

(Kyle)


(Sheppard)
















WR (4)

Boddie

Harrison

(Kyle)


(Sheppard)

























TE/HB (5)

Bresnahan


Schoenwald

Ball

Decoursey

(Lamonica)




TE/HB (5)

Bresnahan

Schoenwald

Ball

Decoursey

(Lamonica)







TE (5)

Bresnahan

Schoenwald

Ball

Decoursey

(Lamonica)







TE (3)

Ball

Decoursey

(Lamonica)













OL (14)

Bailey


Buchanan


Clemens

Dawkins


Miller

Steen

Stewart

Bapst

Fitzgerald

Hernandez

(Ashmore)

(J. Brooks)

(Cox)

(Wesley)

OL (13)

Bailey

Buchanan

Dawkins

Miller

Steen

Stewart

Bapst

Fitzgerald

Hernandez

(Ashmore)

(J. Brooks)

(Cox)

(Wesley)










OL (9)

Dawkins

Steen

Bapst

Fitzgerald

Hernandez

(Ashmore)

(J. Brooks)

(Cox)

(Wesley)






















OL (7)

Baptst

Fitzgerald

Hernandez

(Ashmore)

(J. Brooks)

(Cox)

(Wesley)




























DL (12)

Birchmeier

Davis


Odeyingbo

Reitmaier

Surgers


Tidd

Clifton

Green

James

Langham

Maddox

(Wilkins)







DL (9)

Davis


Reitmaier

Surgers

Clifton

Green

James

Langham

(Williams)

(Wilkins)



















DL (7)

Davis

Surgers

Clifton

Green

James

Langham

(Williams)

























DL (1)

(Williams)












































LB (12)

Afemui

C. Anderson

DeVault-Smith

Hebert


McAllister

Mintze

Moore

Al. Orji

Owusu


(Barr)

(Lampton)

(Wright)

LB (10)

Afemui

C. Anderson

DeVault-Smith


McAllister

Moore

Al. Orji

Owusu

(Barr)

(Lampton)

(Wright)










LB (4)


McAllister

(Barr)

(Lampton)

(Wright)































LB (3)

(Barr)

(Lampton)

(Wright)





































DB (17)

BJ Anderson

Coppet

Daley

Douglas

A. George

Hamilton

B. Harris

Haynie

Jerkins


Worship

Carriere-Williams

J. Harris

Jeudy

Mahoney

An. Orji

(Lloyd)

(Kaufman)

DB (13)

BJ Anderson

Douglas

A. George

B. Harris

Haynie

Jerkins

Worship

J. Harris

Jeudy

Mahoney

An. Orji

(Lloyd)

(Kaufman)



















DB (10)

BJ Anderson

Douglas

B. Harris

Jerkins

J. Harris

Jeudy

Mahoney

An. Orji

(Lloyd)

(Kaufman)




























DB (4)

J. Harris

Jeudy

(Lloyd)

(Kaufman)














































PK (1)
Rice

PK (1)

Rice

PK (1)

Rice

P (1)

(Wheatley)

P (1)

(Wheatley)

P (1)

(Wheatley)

SN (1)

(Schelling)

SN (1)

(Schelling)

SN (1)

(Schelling)

SN (1)

(Schelling)

81 total

4 under

68 total

17 under

52 total

33 under

27 total

58 under
Notes
The chart was updated on Feb. 14th, 2020, and reflects the additions of the 2020 signing class and subtractions of Sean McMoore, Stone Edwards, Salua Masina, Lashawn Paulin-Bell, Austin Quillen, and Brayden Kopp from the updated spring roster.
We assume each player stays four years. If a player is going to take a redshirt, we'll add a fifth year later.
Signees who aren't yet on campus are noted in parenthesis.
Players who have committed, but haven't signed, have an "*" by their names.
A player in "[ ]" designates a freshman who redshirted.
Players with a "#" are in the NCAA Transfer Portal.
"+" designates a transfer who must sit out that particular year.