Football scholarship chart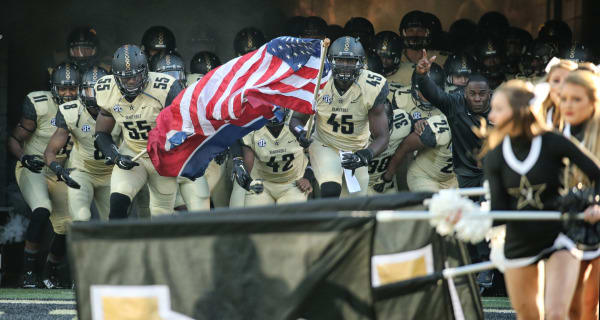 Vanderbilt football scholarships, by year
2022
2023
2024

Quarterback (5)


Dickey

Seals

Swann

W Taylor

M Wright

Quarterback (5)

Dickey

Seals

Swann

W Taylor

M Wright

Quarterback (3)

Dickey

Swann

W Taylor







Running back (5)

Betts-Pauley

R Davis

Gillespie

Griffin

Smith

Running back (5)

Betts-Pauley

Gillespie

Griffin

Smith

(Alexander)

Running back (4)

Betts-Pauley

Gillespie

Smith

(Alexander)




Wide receiver (8)

Boddie Jr.

Carter

Kyle

Ez McAllister

McGowan

Sheppard

Skinner

Walker










Wide receiver (11)

Carter

Kyle

Ez McAllister

McGowan

Sheppard

Skinner

Walker

(Humphreys)

(Lanier)

(Parish)

(Sherrill)

Wide receiver (9)

Carter

Ez McAllister

McGowan

Skinner

Walker

(Humphreys)

(Lanier)

(Parish)

(Sherrill)







Tight end (5)

Ball

Bresnahan

DeCoursey

Schoenwald

Spence

Tight end (3)

Spence

(K Johnson)

(Pimpton)







Tight end (3)

Spence

(K Johnson

(Pimpton)







Center (2)

Hernandez

Ketschek

Center (1)

Ketschek




Center (1)

Ketschek




Guard (4)

Castillo

Cox

Harber

PItchford




Guard (5)

Castillo

Cox

Harber

PItchford

(Starks)

Guard (4)

Castillo

Harber

PItchford

(Starks)




Offensive tackle (7)

Ashmore

Brammer

Hansen

Morgan

Nelson

Siegel

Uzebu

Offensive tackle (6)

Ashmore

Hansen

Morgan

Nelson

Siegel

(Miles)




Offensive tackle (5)

Hansen

Morgan

Nelson

Siegel

(Miles)







Defensive line (12)

Bapst

Bence

Cecil

Clifton

D Davis

James

Langham

Lee

Spencer

Mann

Ouattara

Wesley

Zunk

Defensive line (9)

Bence

Lee

Mann

Ouattara

Spencer

Wesley

Zunk

(Gregoire)

(Thomas)













Defensive line (7)

Bence

Lee

Mann

Ouattara

Zunk

(Gregoire)

(Thomas)



















Star (hybrid DL/LB) (5)

Agu

Capers

Diakate

El McAllister

Owusu

Star (3)

Agu

Capers

Diakate







Star (3)

Agu

Capers

Diakate







Linebacker (5)

Barr

Orji

L Patterson

K Patterson

Truesdell

Linebacker (4)

Barr

L Patterson

Truesdell

(Crisp)




Linebacker (3)

L Patterson

Truesdell

(Crisp)







Anchor (hybrid LB/S) (3)

Cowan

CJ Taylor

D Wright

Anchor (3)

Cowan

CJ Taylor

D Wright

Anchor (2)

Cowan

CJ Taylor




Safety (9)

Harris

Howse IV

Lloyd

Richard

Riley

Sannienola

Sewell

Ugochukwu

Worship

Safety (7)

Howse IV

Lloyd

Richard

Riley

Sannienola

Sewell

Ugochukwu







Safety (6)

Howse IV

Richard

Riley

Sannienola

Sewell

Ugochukwu










Cornerback (8)

Anderson

Berry

Gaskins

Lucien

Mahoney

Russell

Wharton

A Wright

Cornerback (6)

Berry

Gaskins

Russell

Wharton

A Wright

(Hight)







Cornerback (6)

Berry

Gaskins

Russell

Wharton

A Wright

(Hight)







Punter (2)

Hayball

Wheatey

Punter (0)







Punter (0)







Kicker (1)

Bulovas

Kicker (1)

Taylor

Kicker (1)

Taylor

Long snapper (1)

Schelling

Long snapper (1)

Schelling

Long snapper (0)




TOTAL: 83

70

57
The chart is updated through Sept. 1, 2022, following the Edwards and Martin dismissals.
It is impossible to predict roster outcomes as 2020 set in motion a number of unforeseen variables (including the season not counting towards anyone's eligibility). Also, Vanderbilt does not build in redshirts in its official roster chart (in other words, a player who didn't play as a freshman, but is in his second year on campus, is listed as a "sophomore" and so on.) So a player around for 2020 has five years of eligibility and a player who redshirted in a year besides 2020 should qualify for six years.
However, for simplicity's sake, we project nothing beyond a player's fourth year, even if that player is already eligible for one or two redshirts. So several players have eligibility beyond what's listed; for example, Devin Boddie Jr. got a regular redshirt in 2019 and qualifies for an extra year in 2020 due to Covid. So even though he's listed through just 2022, it's possible he could play through 2024.
Players who have committed but aren't yet on campus are listed in parenthesis.
Players who have signed but aren't yet on campus are in brackets..