Football scholarship chart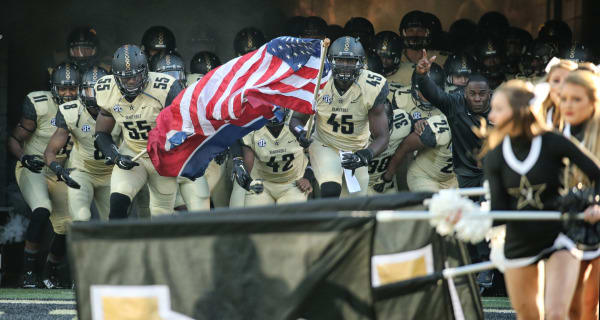 It is impossible to predict roster outcomes as 2020 set in motion a number of unforeseen variables (including the season not counting towards anyone's eligibility), but, this is our best guess at what rosters could look like in future years. Please treat it as a guide for possibilities and not as the final word.
Some assumptions and notes:
- Players who were on the roster at some point in 2020 will stay around for five years unless we know otherwise. It is possible some will stay less and some may even stay six years, but for consistency's sake we will assume five for everyone. (This eliminates players like Jamauri Wakefield and grad transfers who never played like Stephen Spanellis and Oren Milstein.)
- We assume players who hit the transfer portal won't return and therefore we have left them off this list. That said, there's nothing in the rules barring any from returning to Vanderbilt. This includes Grant Miller, Randall Haynie, etc.
- Dayo Odeyingbo and Andre Mintze have declared for the draft, so we consider them gone.
- This includes players who left the team mid-year and aren't in the transfer portal that we know. Many are certainly not likely to return but the goal here is not to rule anything out unless a player has hit the portal. For instance: Players like Danny Clark left the team mid-season but as far as we know, hasn't transferred elsewhere or entered the transfer portal.
- A large number of players left the team at some point and were not on the field--dressed or otherwise--for the Tennessee game, but were still listed on the official roster. Such players are noted with an asterisk (*). Some will likely return while others probably won't.
- Players who have signed but aren't yet on campus are listed in parenthesis.
- Players who have verbally committed but haven't signed are listed in brackets.
Vanderbilt football scholarships, by year
2021
2022
2023
2024

QB (3)


Moussa

Seals

Wright, M

QB (3)


Moussa

Seals

Wright, M

QB (2)

Seals

Wright, M




QB (2)

Seals

Wright, M




RB (6)

(Betts-Pauley)

(Davis)

Griffin

Henry-Brooks

Marlow

(Smith)

RB (6)

(Betts-Pauley)

(Davis)

Griffin

Henry-Brooks

Marlow

(Smith)

RB (5)

(Betts-Pauley)

(Davis)

Griffin

Henry-Brooks

(Smith)




RB (3)

(Betts-Pauley)

Griffin

(Smith)










WR (11)

Abdur-Rahman

Boddie*

Bostic*

(Carter)

(E. McAllister)

Harrison*

Johnson

Kyle

Pierce

Sheppard

(Skinner)

WR (9)

Abdur-Rahman

Boddie*

(Carter)

(E. McAllister)

Harrison*

Johnson

Kyle

Sheppard

(Skinner)







WR (7)

Boddie*

(Carter)

(E. McAllister)

Harrison*

Kyle

Sheppard

(Skinner)













WR (5)

(Carter)

(E. McAllister)

Kyle

Sheppard

(Skinner)



















TE/HB (5)

Ball

Bresnahan

DeCoursey*

LaMonica*

Schoenwald

TE (5)

Ball

Bresnahan

DeCoursey*

LaMonica*

Schoenwald

TE (3)

Ball

DeCoursey*

LaMonica*







TE (1)

LaMonica*













OL (18)

Ashmore

Bailey*

Bapst

Brooks

Buchanan*

(Castillo)

Clemens*

Cox

Dawkins

Fitzgerald

(Hansen)

Hernandez

(Ketschek)

(Pitchford)

Steen

Stewart*

(Uzebu)

Wesley

OL (14)

Ashmore

Bapst

Brooks

(Castillo)

Cox

Dawkins

Fitzgerald

(Hansen)

Hernandez

(Ketschek)

Pitchford

Steen

(Uzebu)

Wesley













OL (12)

Ashmore

Bapst

Brooks

(Castillo)

Cox

Fitzgerald

(Hansen)

Hernandez

(Ketschek)

(Pitchford)

(Uzebu)

Wesley



















OL (8)

Ashmore

Brooks

(Castillo)

Cox

(Hansen)

(Ketschek)

(Pitchford)

Wesley































DL (14)

(Bence)

(Bradley

Clifton

Davis*

Green*

(Hunter)

James*

Langham

(Lee)

Reitmaier*

(Sugick)

Surgers*

Wilkins

Williams*

DL (14)

(Bence)

(Bradley

Clifton

Davis*

Green*

(Hunter)

James*

Langham

(Lee)

Reitmaier*

(Sugick)

Surgers*

Wilkins

Williams*

DL (10)

(Bence)

(Bradley

Clifton

Davis*

Green*

(Hunter)

James*

(Lee)

(Sugick)

Williams*













DL (6)

(Bence)

(Bradley

Green*

(Hunter)

(Lee)

(Sugick)

























LB (9)

Barr

(Capers)

DeVault-Smith

Lampton*

McAllister

(Mincey)

Orji, Al.

Orji, An.

Owusu

LB (7)

Barr

(Capers)

Lampton*

McAllister

(Mincey)

Orji, Al.

Orji, An







LB (5)

Barr

(Capers)

Lampton*

(Mincey)

Orji, An.













LB (4)

Barr

(Capers)

Lampton*

(Mincey)
















DB (16)

Anderson

George

Harris, B

Harris, J

(Howse)

Jeudy-Lally

Kaufman

Lloyd

Mahoney

(Russell)

(Sewell)

(Taylor)

Worship*

(Wright, A)

Wright, D

(Ziglor)

DB (15)

Anderson

Harris, B

Harris, J

(Howse)

Jeudy-Lally

Kaufman

Lloyd

Mahoney

(Russell)

(Sewell)

(Taylor)

Worship*

(Wright, A)

Wright, D

(Ziglor)




DB (12)

Harris, J

(Howse)

Jeudy-Lally

Kaufman

Lloyd

Mahoney

(Russell)

(Sewell)

(Taylor)

(Wright, A)

Wright, D

(Ziglor)













DB (9)

(Howse)

Kaufman

Lloyd

(Russell)

(Sewell)

(Taylor)

(Wright, A)

Wright, D

(Ziglor)






















P/PK (2)

Rice

Wheatley

P/PK (2)

Rice

Wheatley

P/PK (1)

Wheatley




P/PK (0)







SN (1)

Schelling

SN (1)

Schelling

SN (1)

Schelling

SN (1)

Schelling

85 total

0 over

76 total

9 under

58 total

27 under

39 total

46 under