Vanderbilt baseball roster, by year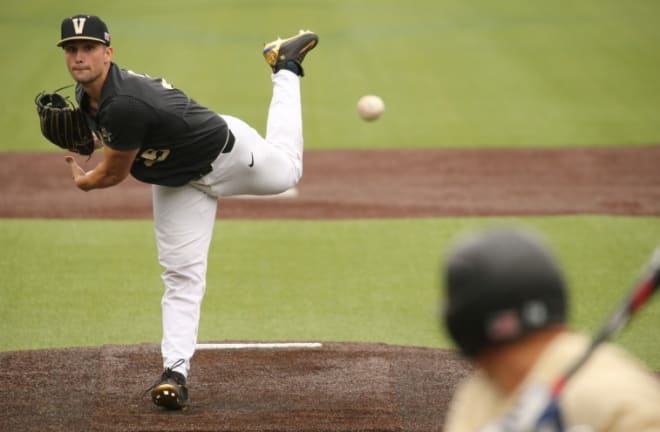 Vanderbilt baseball roster, by year
2019
2020
2021
2022
2023

C (4)

Clarke

Duvall

Keegan


Scott




C (4)

Duvall

Keegan

(Rodriguez)

(Romero)




C (4)

Keegan

(Rodriguez)

(Romero)

(Bulger)




C (5)

(Rodriguez)

(Romero)

(Bulger)

(Hunt)

(Migliaccio)

C (3)

(Bulger)

(Hunt)

(Migliaccio)







IF (9)

Gonzalez

Hayes

Infante

Kolwyck

Malcom

Malloy

Martin

Paul


Ray










IF (10)

Gonzalez

Kolwyck


Martin


Ray

(Duff)

(Maldonado)

(McElvain)

(McKenzie)

(Noland)

(Young)







IF (11)

Kolwyck

(Duff)

(Maldonado)

(McElvain)

(McKenzie)

(Noland)

(Young)

(Casas)

(O'Dowd)

(Pittaro)







IF (12)

(Duff)

(Maldonado)

(McElvain)

(McKenzie)

(Noland)

(Young)

(Casas)

(O'Dowd)

(Pittaro)

(Gordon)

(Lawlar)

(Vastine)

IF (8)

(Casas)

(O'Dowd)

(Pittaro)

(Gordon)

(Lawlar)

(Vastine)

(Stewart)

(Wolfe)













OF (7)

Bleday

Davis

DeMarco

Fentress

Grisanti

Hogan

Thomas










OF (5)

Davis

Hogan

Thomas

(Keenan)

(LaNeve)
















OF (9)

Hogan

Thomas

(Keenan)

(LaNeve)

(Bradfield)

(Crow-Armstrong)

(Hassel)

(Hewett)

(Moore)

OF (9)

(Keenan)

(LaNeve)

(Bradfield)

(Crow-Armstrong)

(Hassel)

(Hewett)

(Moore)

(Mallory)

(C. Smith)

OF (8)

(Bradfield)

(Crow-Armstrong)

(Hassel)

(Hewett)

(Mallory)

(Moore)

(C. Smith)

(Jones)




RHP (9)

Becker

T. Brown

Fellows

Hickman

Huff

Kaiser

Raby

Rocker

E. Smith
















RHP (10)

T. Brown

Hickman

Kaiser

Rocker

E. Smith*

(Murphy)


(Doolin)


(Hlibokci)

(Leiter)

(Schultz)













RHP (11)

Rocker


E. Smith

(Murphy)


(Doolin)


(Hlibokci)

(Leiter)

(Schultz)

(Bradley)

(Garrett)

(Hansen)

(Tamariz)










RHP (14)

(Murphy)

(Doolin)

(Hlibokci)

(Leiter)

(Schultz)

(Bradley)

(Garrett)

(Hansen)

(Tamariz)

(Cunningham)

(Langhorne)

(Little)

(Morales)

(JP Smith)

RHP (11)

(Bradley)

(Garrett)

(Hansen)

(Tamariz)

(Cunningham)

(Langhorne)

(Little)

(Morales)

(JP Smith)

(Dutkanych)

(Finnegan)










LHP (6)

Eder
Fisher

Franklin

Gillis

Gobillot

King







LHP (4)

Eder

Fisher

(Jones)

Sandborn













LHP (4)

(Berkwich)


(Fulton)

(Owen)

(Stefiuk)













LHP (7)

(Berkwich)

(Fulton)

(Owen)

(Stefiuk)

(Futrell)

(Ginther)

(Holton)




LHP (8)

(Berkwich)

(Fulton)

(Owen)

(Stefiuk)

(Futrell)

(Ginther)

(Holton)

(Barriera)

35 total

0 over

33 total

2 under

37 total

2 over

47 total

12 over

38 total

3 over
Notes
* Chance Huff and Sterling Hayes have been taken off the rosters as they've entered the transfer portal.
This list is otherwise updated through Sept. 18, 2019, with all known commits through the class of 2023 listed.

A team can roster 35 players per year.

* Smith is a draft-eligible sophomore in 2020.
** Luke Murphy will get a medical redshirt for 2019 and didn't count against the roster limit.
The assumption is that each player will be on campus for three years. When it becomes apparent that a player could get a fourth year, we'll add it at that point.
+ indicates a player who has been drafted in the current year, but hasn't signed.
Recruits are listed in parenthesis. All commitments/signees who have not signed professional contracts are listed; we make no guesses as to who will sign professional contracts and forego a Vanderbilt career.