Vanderbilt baseball roster, by year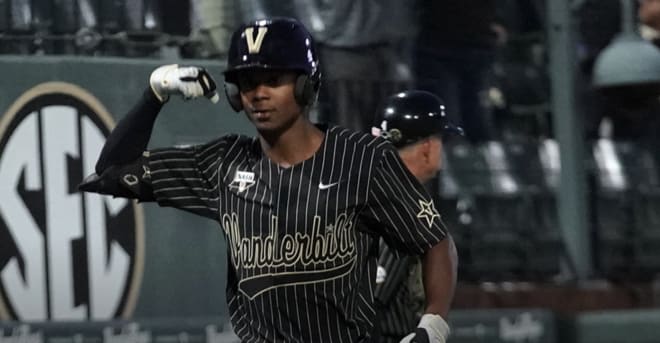 Vanderbilt baseball projected roster, by year
2023
2024
2025

Catcher (3)

Bulger

Espinal

(Poteet)




Catcher (4)

(Poteet)

(Barczi)

(Bennett)

(Botbyl)

Catcher (4)

(Poteet)

(Barczi)

(Bennett)

(Botbyl)

Infield (8)

Diaz

Noland

Vastine

(Arias)

(Austin)

(C Maldonado)

(Velazquez)

(Wolfe)
















Infield (12)

Diaz

Vastine

(Arias)

(Austin)

(C Maldonado)

(Velazquez)

(Wolfe)

(Guth)

(Hamilton)

(Holcomb)

(Kozeal)

(Lombard)




Infield (10)

(Arias)

(Austin)

(C Maldonado)

(Velazquez)

(Wolfe)

(Guth)

(Hamilton)

(Holcomb)

(Kozeal)

(Lombard)










Outfield (9)

Bradfield

Hewett

LaNeve

McKenzie

Polk

Rogers

(Holbrook)

(Kodali)

(Schreck)

Outfield (5)

Polk

Rogers

(Holbrook)

(Kodali)

(Clark)













Outfield (3)

(Holbrook)

(Kodali)

(Clark)



















RH pitcher (11)

Anderson

Cunningham

Doolin

Hliboki

N Maldonado

Moore

Regen

Reilly

T Schultz

(Dukanynch)

(Horn)

RH pitcher (9)

Cunningham

Regen

(Dukanynch **)

(Horn)

(Ekstrom)

(Herring)

(Robinson)

(Sieber)

(Teague)







RH pitcher (7)

Regen

(Horn)

(Ekstrom)

(Herring)

(Robinson)

(Sieber)

(Teague)













LH pitcher (5)

Futrell

Ginther

Holton

Owen

(Thompson)













LH pitcher (9)

Futrell

Ginther

Holton

(Thompson)

(Clemmey)

(E McElvain)

(Mendes)

(Schulz)

(White)

LH pitcher (6)

(Thompson)

(Clemmey)

(E McElvain)

(Mendes)

(Schulz)

(White)










36

39

30
NOTES
Projected rosters have been updated as of July 28, 2022.
A team can roster 35 players per year.

The assumption is that each player will be on campus for three years, except for draft-eligible sophomore signees, who we presume will be there for two years. When it becomes apparent that a player could get a fourth or fifth year, we'll add it at that point.
* indicates a current player who could be picked in the 2022 MLB Draft and leave, or elect to return to Vanderbilt.
# indicates a player who has been drafted in the current year, but hasn't signed. Commitments are provided by Perfect Game.
& Andrew Dukanych and RJ Austin have withdrawn from the 2022 MLB Draft.
Recruits are listed in parenthesis. All commitments/signees who have not signed professional contracts are listed; we make no guesses as to who will sign professional contracts and forego a Vanderbilt career.
Vanderbilt baseball roster, by year
2020
2021
2022

C (3)

Duvall

Rodriguez

Romero










C (4)

Bulger

Espinal

Rodriguez

Romero







C (4)

Bulger

Espina

Keeganl

(Hunt)







IF (9)

Duff

Gonzalez

Hayes

Jones

Keegan

Martin

Ray

Noland

Young




IF (10)

Casas

Duff

Gonzalez

Jones (DH)

Keegan

Noland

O'Dowd

Pittaro

Vaz

Young

IF (9)

Jones

Kolwyck

McKenzie

Noland

Young

Casas

Gordon

Vastine

Diaz




OF (5)

Davis

Hogan

Kolwyck

LaNeve

McKenzie

Thomas







OF (9)

Bradfield

Davis

Hewett

Hogan

Kolwyck

LaNeve

McKenzie

Thomas

OF (8)

LaNeve

Bradfield

Hewett

Mallory

McKenzie

Rogers

C. Smith

Vaz

RHP (13)

T. Brown

Doolin

Hickman

Kaiser

Hliboki

Huff

Leiter

Maldonado

McElvain

Murphy

Rocker

Schultz

E. Smith







RHP (15)

Bradley

Doolin

Evans

Garrett

Hliboki

Leiter

Little

Maldonado

McElvain

Moore

Murphy

Reilly

Rocker


Schultz

E. Smith

RHP (14)

Anderson

Bradley

Carter

Cunningham

Doolin

Evans

Hliboki

Little

Margins

Maldonado

McElvain

Moore

Reilly

Schultz




LHP (3)

Eder

Fisher

Keenan










LHP (5)

Berkwich

Brett Hansen

Owen

Stefiuk







LHP (5)

Berkwich

Futrell

Ginther

Holton

Owen




34 total

1 under

40 total




40 total